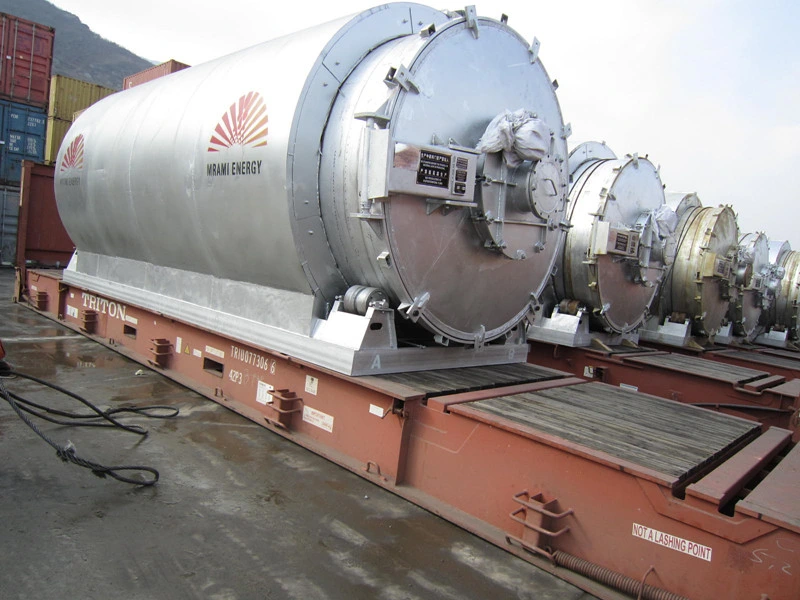 1. Main parts of the 2014 new design waste tires pyrolysis plant
A. Full open door
B. Reactor
C. Gas seperator
D. Sync gas collecting tank
E. Smoke scrubber
F. Cooling tower
G. Oil tank
H. Carbon black discharging
I. Waste gas burner
2. Working process
1. Feed the reactor with raw materials through the feeding door by labor or machine and then close it
Tightly.
2. Heat the reactor with coal, wood or other fuels.
3. Some harmful smoke will come out along with the heating, but it can be removed by the
Desulfurization dedusting system.
4. The smoke from the exhaust disposal system is no different from the air. The draft fan helps to
Inhale the smoke from the pipe and then release it into air more quickly.
5. The oil gas will travel from the reactor to gas separate, in which the heavy oil and impurities will
Depart from the gas due to the gravity. Then the gas will continue its journey into the depositing tank
For a second separation. The cleaned oil gas will run into the cooling condensing/pipes in the
Cooling pool, where the gas will convert to liquid, the oil, and then flow into the oil tank for storage.
6. There will be some waste gas in the oil tank. It will follow the pipe over the oil tank into the cooling
Pool for a second condensing so that the remained oil gas could turn to oil to improve the oil
Yield rate.
7. As for the waste gas, the part that cannot transform to liquid will go to the water seal and then to the furnace for burning. It is not only environment protection but also energy conservation.
End products
Item
Percentage
Usage
Fuel Oil
40-45%
1. Used as fuel in Industrial such as steel&iron factories, chemical
industrial or hotels and restaurants.
2. used for heavy oil generators to get electricity
3. used for distillation.
Crude Carbon Black
About 35%
1. used for construction bricks or make into briquette;
2. deep-processed to N330, N660, N774 or color carbon black.
Steel
12-15%
Sold or reprocessing
Sync Gas
About 5%
1. recycled and used during process as fuel.
2. compressed into liquid gas, used as fuel or to generate electricity
3. After-sales service
1. Quality warranty period: One year warranty for the main reactor of pyrolysis machines and lifetime
Maintenance for complete set of machines.
2. Our company sends engineers for installation and commissioning in buyer's site including the training of
Skills of the buyer's workers on operation, maintenance, etc.
3. Supply layout according to buyer's workshop and land, civil works information, operation manuals, etc. To
The buyer.
4. For the damage caused by the users, our company provides the parts and accessories with cost price.
5. Our factory supplies the wearing parts with the cost price to clients