Our Qingdao Longyuan Baihong Machinery Equipment Co., Ltd is a big manufacturer for Pyrolysis Equipment for 22 years in China. We located at Qingdao-----a beautiful and Industry developed city.We established in year 1997, our main products are environment pyroloysis equipment.The company has passed ISO9001 certification, CE certification and SGS international third party certification.To the overall design, production and manufacturing, installation and commissioning, technical training, after-sales service in the whole industrial chain operation of high-tech enterprises.
Will be shattered fragments of the tire after a belt conveyor, belt scale, screw conveyor, etc to the negative pressure in the continuous pyrolysis system through pyrolysis, in system after the gas phase reaction temperature 450-550 ºC under the condition of vacuum fast pyrolysis reaction, generate the pyrolysis oil, carbon black, pyrolysis wire and combustible gas, combustible gas by separation of oil and gas recovery unit after enter into the hot blast stove burning, for the whole production system to provide the reaction heat, achieve self-sufficiency in energy; After the high temperature oil and gas are cooled into liquid state by the spray condensation system, the oil and gas separation and recovery unit will finally enter the tank for storage. Carbon black and pyrolysis iron wire are first recovered by cooling devices such as spiral conveyor, and the recovered carbon black and steel wire are stored in storage tanks. Subsequently, carbon black and pyrolysis iron wire can be separated by magnetic separation and other devices for wire recovery.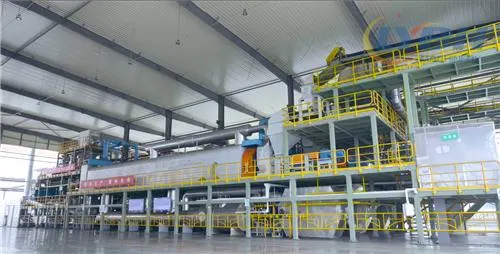 Equipment advantages:
1.It can working continuous 24 hours in a day,improve working efficiency
2.Precision machining of all parts that can improve service life.
3.No odor,no residue,no emission,no pollution
4.High oil rate,improve oil rate 40% to 45%
5.Our machine can produce high quality carbon black,no impurity in it and no steel wire in it.
6.Special explosion-proof system,high safety system.
Protection system:
1.Overtemperature protection:Due to faulty operation,the temperature of reactor is higher than the theoretical temperature, the console displays an alarm and automatically adjust the temperature.
2.Overpressure protection:Due to faulty operation leads to excessive pressure on reactor,the console displays an alarm and releases pressure automatically.
3.Leakage protection:Due to faulty operation leads to oil and gas leakage,the console display and alarm.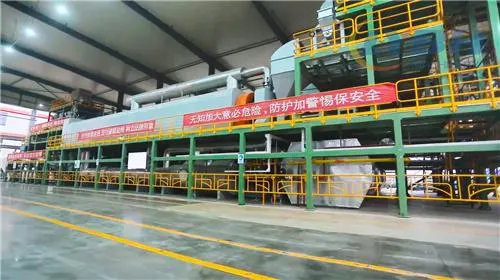 Fully Continuous pyrolysis plant

Waste tires, waste rubber, waste plastic, waste acrylic, sludge, household garbage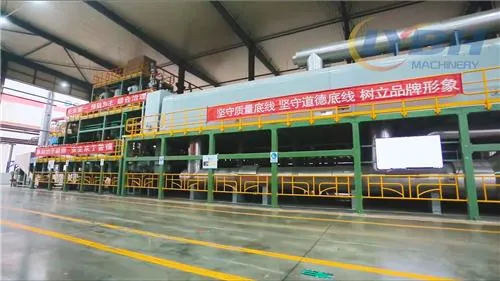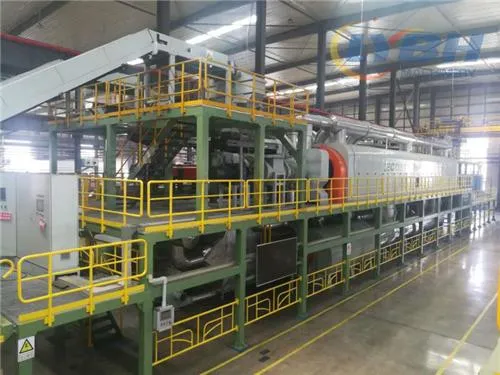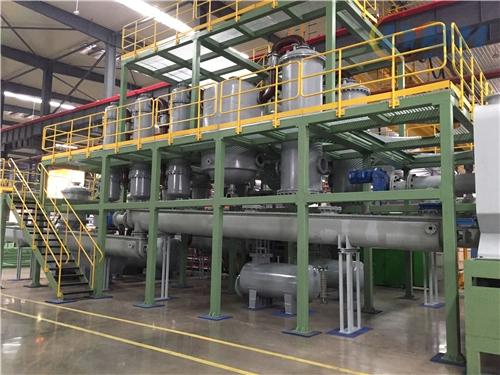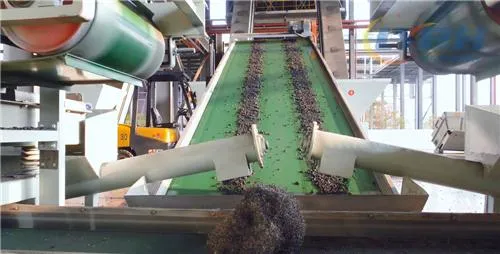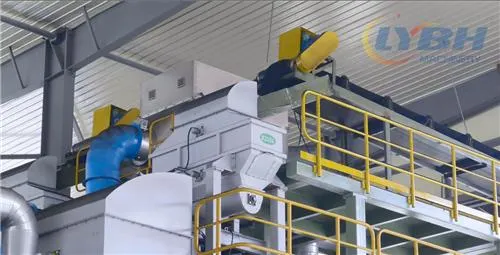 1.Raw Material

2.Final Products

1. Used as fuel in Industrial such as steel&iron factories,

chemical industrial or hotels and restaurants.

2. For heavy oil generators to get electricity.

3. For distillation to non-standard diesel oil

1. Used for construction bricks;

2. Deep-processed to N330, N660, N774 or color carbon black

Recycling during the operation
3. The available fuel for pyrolysis processing
| | |
| --- | --- |
| NO. | Fuel |
| 1 | Oil(fuel oil, tyre oil, heavy oil etc..) |
| 2 | Natural gas |
| 3 | Coal |
| 4 | Firewood |
| 5 | Carbon black pellet |
1.Outstanding Features:
a. The reactor need preheat at the first when the machine starts producing.
b. 24h continuous working for 20-30 days without any stops.
c. No need fuels, sync gas is recycled during the operation.
d. Large daily capacity:20-25T/D;25-30T/D
e. New desing of vertical condensers. Good oil quality with high profit.
f. Low requirement on the raw materials.
2. Security:
a: Adopting automatic submerged-arc welding technology
b: All of the welding will be detected by the ultrasonic nondestructive testing method to ensure the welding quality and the
welding shape.
c: Adopting manufacture process controlling system on the quality, every manufacture process, manufacture date, etc.
d: Equipped with anti-explosion device, safety valves, emergency valves, pressure and temperature meters, as well as the alarming
system.
3. Environmental-friendly:
a: Emission Standard: Adopting special gas scrubbers to remove acid gas and dust from smoke
b: Smell during operation: Fully enclosed during the operation
c: Water pollution: No pollution at all.
d: Solid pollution: the solid after pyrolysis is the crude carbon black and steel wires which can be deep-processed or sold
directly with its value.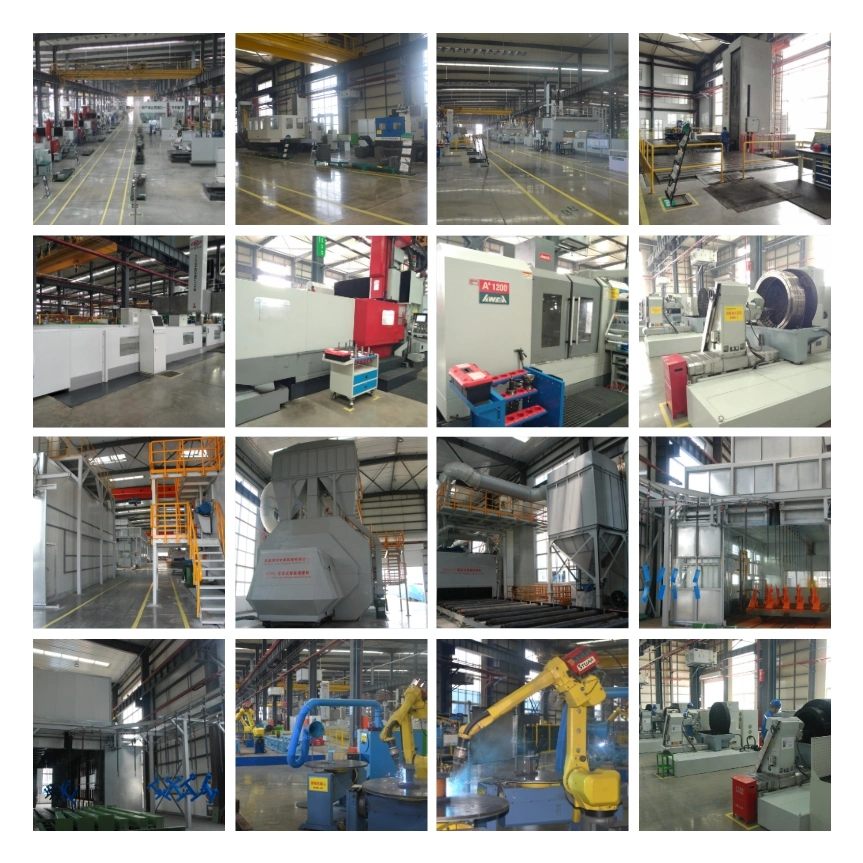 Why Choose Us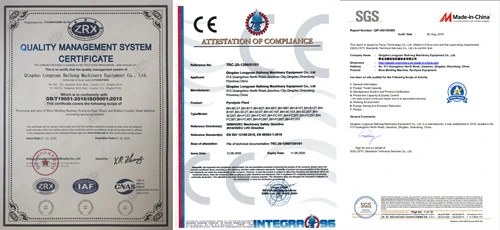 Our service
1.Quality warranty period: One year warranty for the main reactor of pyrolysis machines
and lifetime maintenance for complete set of machines.
2.Our company sends engineers for installation and commissioning in buyer's site including the training of skills of buyer's
workers on operation, maintenance, etc.
3. Supply layout according to buyer's workshop and land, civil works information, operation manuals, etc. to the buyer.
4. For the damage caused by the users, our company provides the parts and accessories with cost price.
5. Our factory supplies the wearing parts with the cost price to clients.