Tire Recycling Business Tyre Processing Plant Scrap Old Tyre Recycling Plant
Flowchart of fully-automatic tire recycling machine:
Tire pre-processing machine: Tire debeader, tire cutter
Waste tire--tire shredder--Rubber crusher--Main vibrating screen machine--Big magnetic separator--Small vibrating screen machine--Small magnetic separator--Nylon fiber separator--Rubber powder--Packing
No
Name
Function
1
Tire debeader
To draw out tire wire from tire bead
2
Tire cutter
To cut larger size tire into several piece
3
Tire shredder
Automatic machine to shred waste tire into 50*50mm or 60*60mm rubber blocks
4
Rubber crusher (host equipment)
To grind rubber blocks into rubber granule or powder as customer request
Auxiliary equipment for rubber crusher:
5
Conveyor
To feed rubber block into rubber crusher
6
Big vibrating screen machine and small vibrating screen machine
To screen rubber size as request
7
Magnetic separator
To separate the wire from rubber
8
Nylon fiber separator
To separate the nylon fiber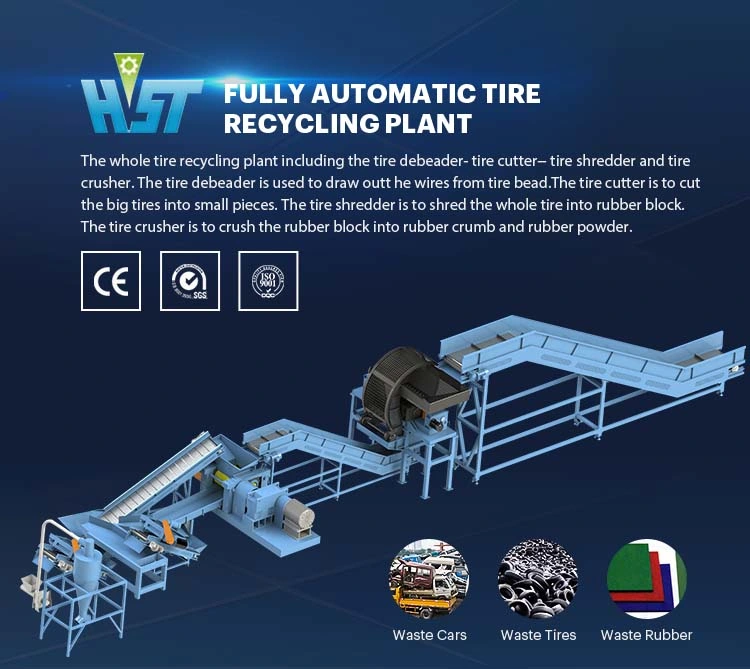 Detail picture information of fully-automatic tire recycling plant:
1. Tire de-beader:
wire puller machine, separate the wire steel from tire bead/ring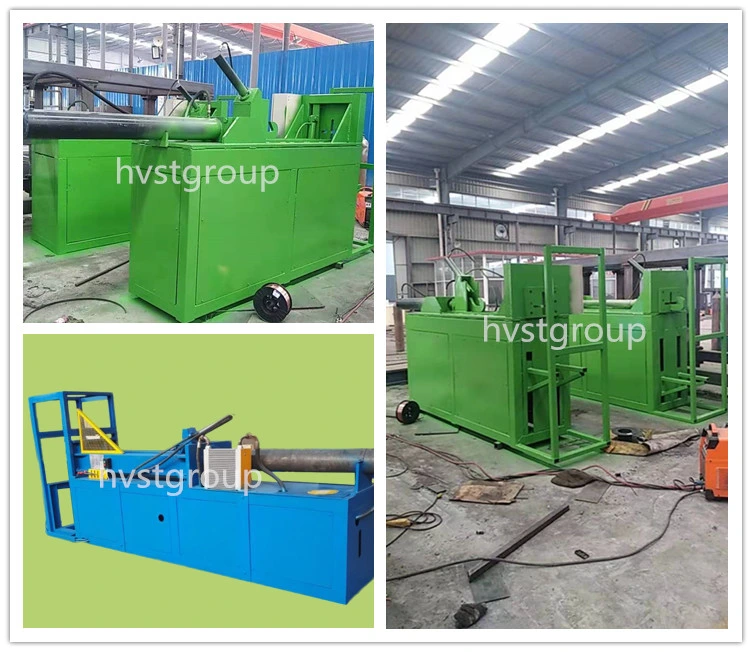 2. Tire cutter: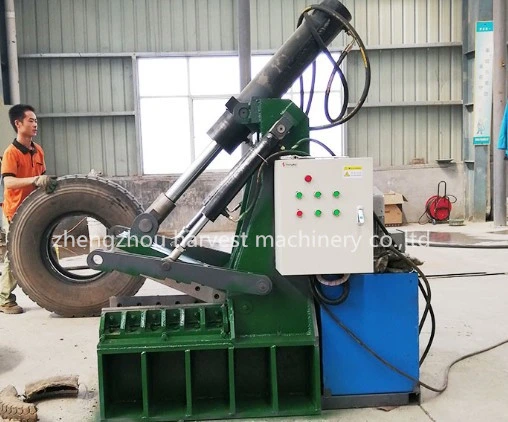 3. Tyre shredder:
to shred the waste tire to rubber blocks.
Two shaft tire srhedder is specially desinged for old tires with low speed and high torque to minimize noise and power consumption.
The blades of the shredder is made of high quality steel and subjected to bodycote heat treatment to achieve the best shredding performance.
It can process various tires, such as car tire, truck tires, tractor tires, even special OTR tire.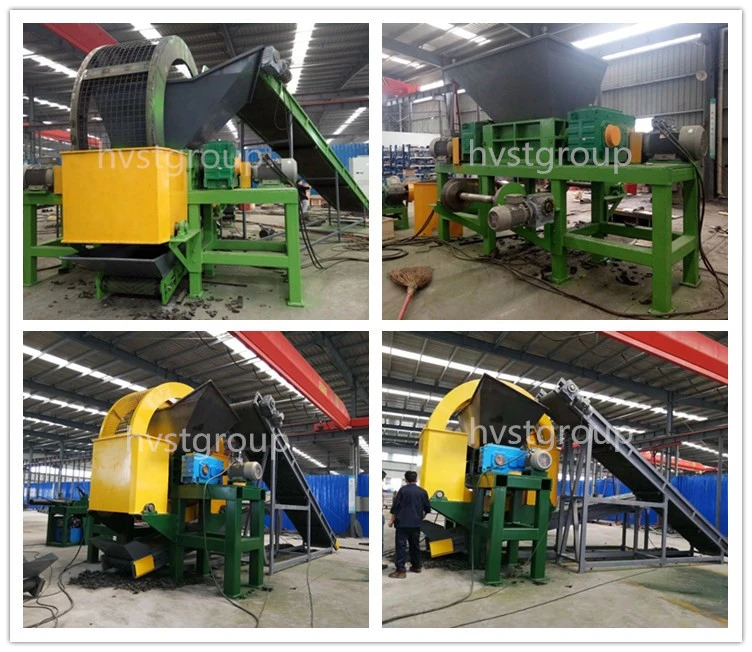 Model

Input size

Output size

Capacity

Motor

Blades quantity

Dimensions

Weight

TS-800

50*50mm

1-2T/h

2*22kw

16pcs

4x2.6x3.2m

8T

TS-1200

1200mm

60*60mm

3-5T/h

2*37kw

20pcs

4

.8x2.

8

x

3

.

5

m

14T

TS-1600

1600mm

50-150mm

6-8T/h

2*45kw

16-30pcs

5x2x3.4m

18T

TS-1800

1800mm

50-150mm

7-10T/h

2*55Kw

20-24pcs

5.6x2x3.4m

23T

TS-2000

2000mm

75-200mm

10-15T/h

2*75kw

20-30pcs

6x2.4x4m

36T

TS-2400

2400mm

100-200mm

20-30T/h

2*110kw

16-24pcs

7.4x3.2x5.2m

56T
4. Rubber crusher:
To grind rubber blocks into rubber granule or powder as customer request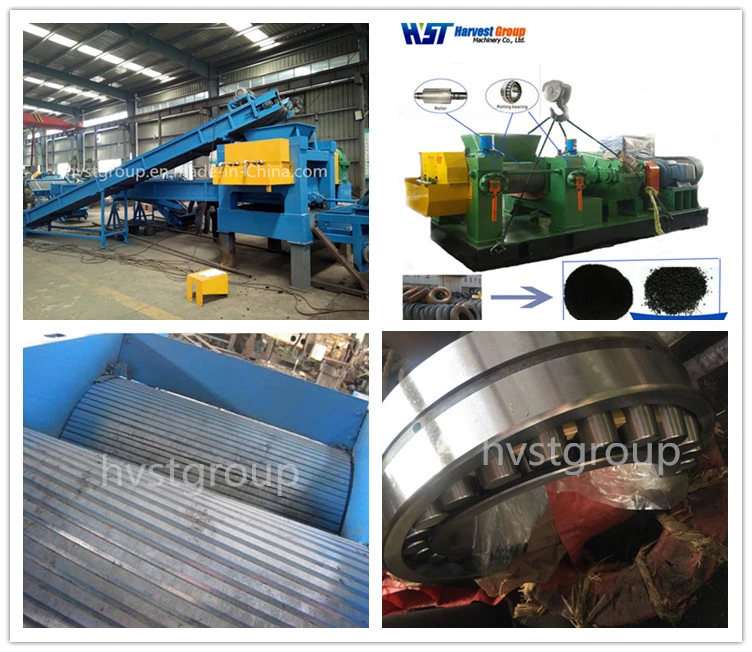 5.Some auxiliary equipment for rubber crusher: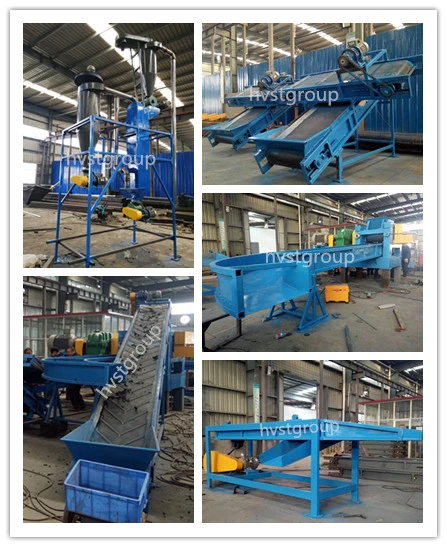 Output rubber size:
Rubber granule: can be used for making rubber tile, playgound filler, sports field, etc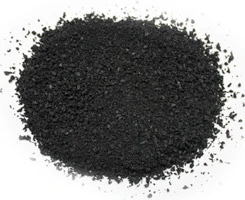 Rubber powder: can be used for making modified asphalt, etc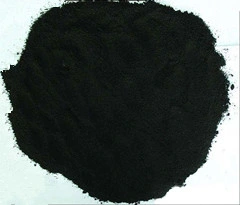 Besides, the steel and nylon fiber also can be removed from rubber: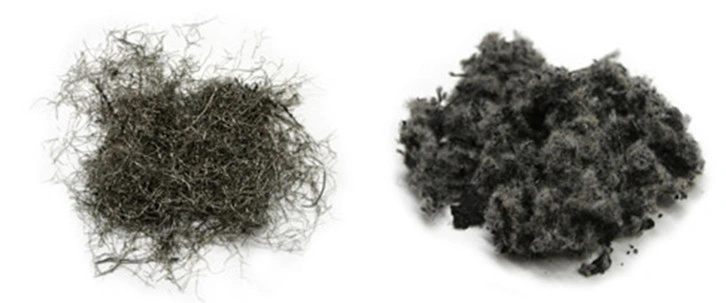 Semi-automatic tire recycling machine:
Waste tire--Tire circle cutter--Strip cutter--Slice cutter--Tire ring separator--Rubber crusher--Big vibrating screen machine--Magnatic separator--Small vibrating screen mchine--Nylon fiber separator--Rubber powder
| | | |
| --- | --- | --- |
| No | Name | Function |
| 1 | Tire ring/circle cutter | to cut open the joint of tire side and top |
| 2 | Rim separator | to separate steel from rim and rubber |
| 3 | Tire strip cutter | To cut tire after tire circle cutter process into strip size |
| 4 | Tire slice cutter | To cut tire strip into 50mm rubber block |
| 5 | Rubber crusher | To grind rubber blocks into rubber granule or powder as customer request |
| 6 | Conveyor | To feed rubber block into rubber crusher |
| 7 | Big vibrating screen machine and small vibrating screen machine | To screen rubber size as request |
| 8 | Magnetic separator | To separate the wire from rubber |
| 9 | Nylon fiber separator | To separate the nylon fiber |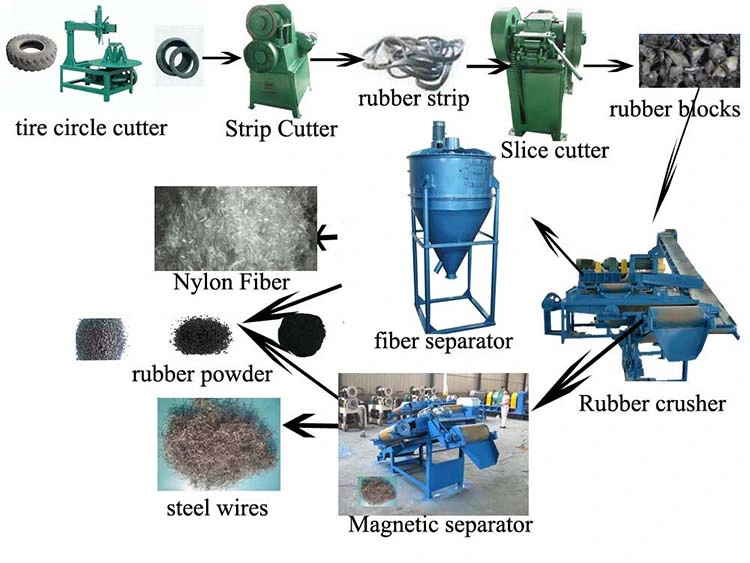 Any questions, please feel free to contact us:
Tel : 86 18238829088