Used Car Tyre/Tire Shredding System to Make Rubber Chips for Pyrolysis
Function: To make 50-150mm rough rubber chips for TDF and civil engineering, or for further size-reducing processing and steel and fiber removal.
More Details
Shredwell tire derived fuel system is designed to shred and recycle different sizes of scrap tires into high-quality rough tyre chips around 50-150mm for collection or further processing. During the shredding process by our TS Tire shredder, all waste tires are cut and re-circulated, leaving a very clean and uniform tyre chips with very little exposed wire.
Tire derived fuel system have numerous uses - like TDF(Tire derived fuel) widely used in cement manufacturing, pulp and paper facilities because it burns hotter and cleaner than coal and is more cost effective or TDA(Tire derived aggregate) widely used in civil engineering projects.
Rubber chip contain steel, fiber, and rubber. Processors are able to sell these rubber chips to buyers or continue processing for additional material outputs.
Tire Recycling System Specification
TDS System
TDS1800
TDS1600
TDS1300
TDS1200
TDS1000
Input Product
Heavy Duty Truck Tyres To Bicycle Tyres
Input Size
Diameter≤1800mm
Diameter≤1600mm
Diameter≤1300
Diameter≤1200mm
Diameter≤1000mm
Output Size
Shred to a 50-150mm Nominal Chip
Capacity
10-15T/h
5-10T/h
3-5T/h
2-3T/h
1-2T/h
Total Kw(based on 50-60 Hz)
123-148Kw
103-124Kw
79-105kw
53-64Kw
53-64Kw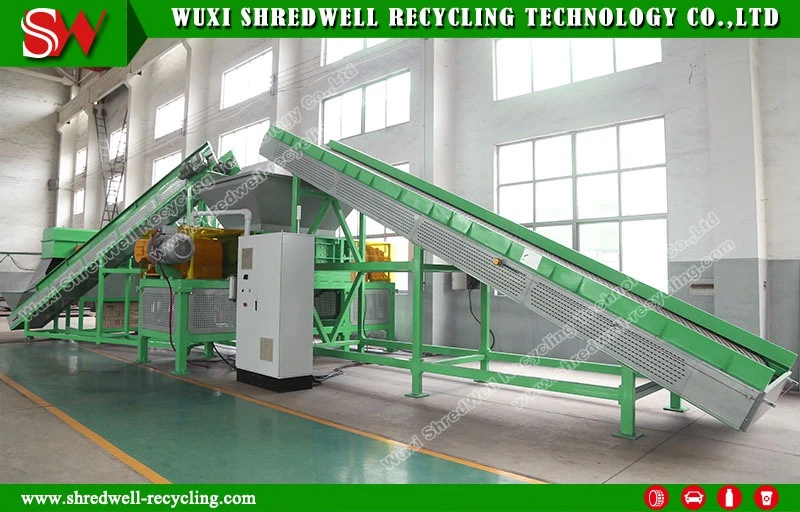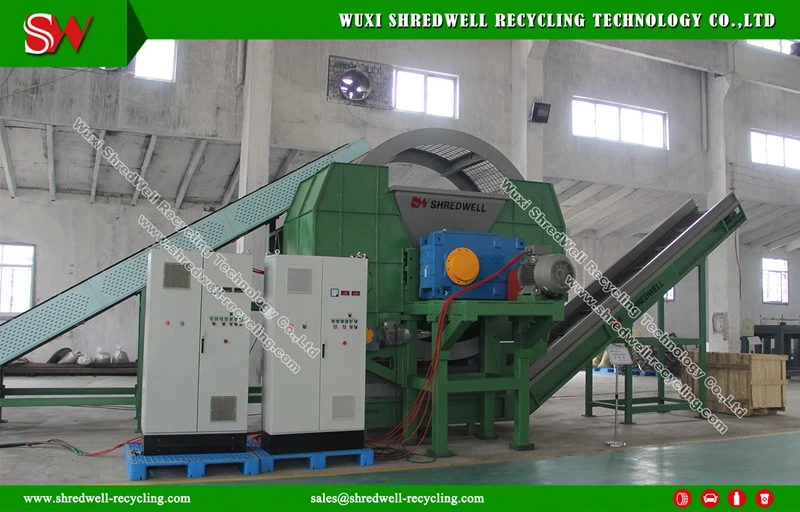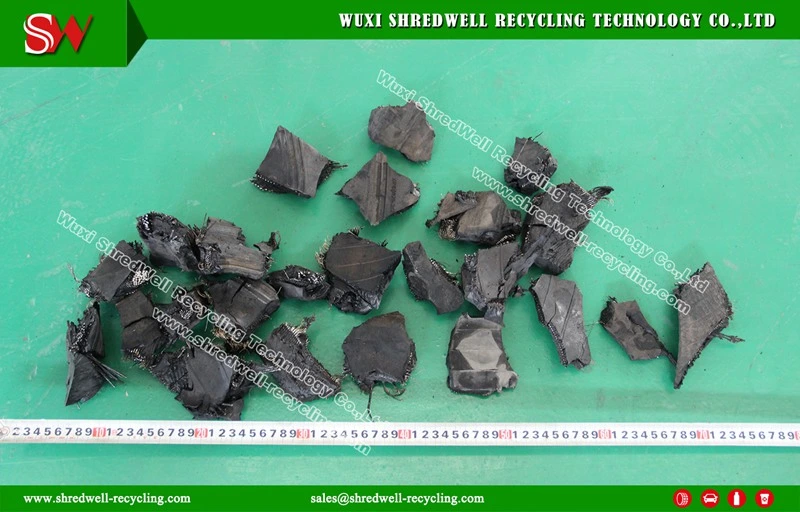 Technical support:
1. Pre-sale support
*Shredwell is composed of experienced specialists, our sales are engineers too, we will offer a suitable solution according client's requirements in time and 24 hours service is probided.
*On-site inspection
2. After-sale service
*Production process follow up, on-processing products' pictures and technical report are supplied regularly to make sure the contracted production schedule.
*Shredwell skilled technicians are available to assist with onsite installation, commissioning & training on request. This will enable customers to optimize the performance of their new plant. Customers will be briefed on all aspects relating to operation and maintenance by a Shredwell technician. Dimensional drawings together with service requirements will be provided prior to delivery of the equipment, which make time for our customer to prepare the site and commence production in time.
3. Technical support
*Shredwell provides enough hardware resource especially for large-scale production lines, clients can carry out installation, commissioning and acceptance before delivery.
Packing and delivery
1. A layer of plastic wraps to protect single, double-shaft shredders and assisting machinery from dust, moisture and corrosion.
2. Wooden case is used as the outside package. Or according to the customer requirements.
3. Excellant logistic team to guarantee the shredder machines to be safely shipped to customer warehouse, no extra fee on export or import on custom.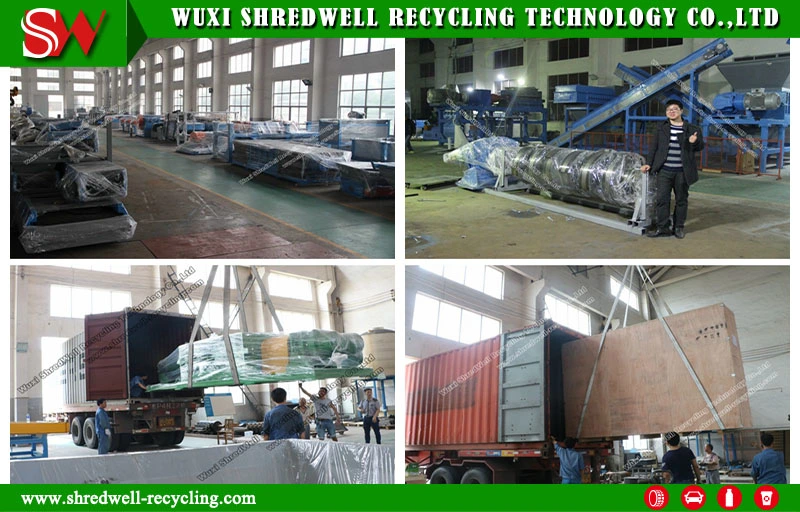 Company Introdution
Wuxi Shredwell Recycling Technology Co.,Ltd is an integrated enterprise that is committed to developing, designing, manufacturing, selling and installing shredding recycling machinery. Our equipment is based on self-owned intellectual property and has advanced European and American technology.
Shredwell has now been in the shredding and recycling industry for more than 10years. Our engineering team has around 15 years experience in designing and manufacturing tire shredding machine systems. Our workforce has more than 5 years experience in manufacturing shredding machinery. Our company has advanced technologies, an experirenced workforce and excellent innovative management systems designed to manufacture safe, energy-saving, stable and reliable shredding machine systems.
Shredwell is located in Wuxi, China, covering an area of more than thirty thousand square meters, and has a modernized technology center and all kinds of processing and testing equipment with more than 100 experienced staff including over 30 professional engineers. Our main focus is to provide our customers cost-effective tire recycling plants ranging from TDS system(50-100mm output chips), TSM system(20mm output wire free chips), TSC system(1-5mm rubber crumb), TSP system(30-120mesh rubber powder)
Our experienced after-sales service team can ensure the most timely installation, testing and training in the customer's workshop. Our mission is to provide our customers the best recycling solutions with high quality service and technology.