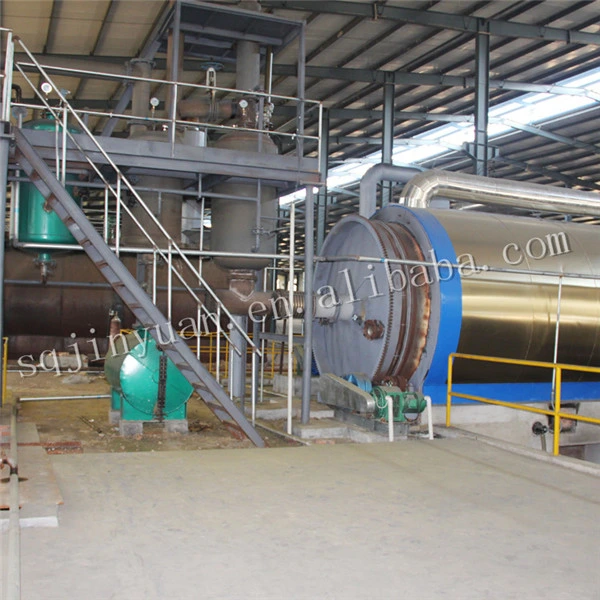 Specifications
A. Proces tires, plastic, rubber into fuel oil
B. National patents in this equipment
C. Without pollution
D. Quality is best
1. Each set of equipment are composed by ten parts:
A. Main engine horizontal type revolving split processor.
B. Horizontal-fixed distillation Processor
C. Feeding-in system
D. Tapping system
E. Central electrically controlled system.
F. Condensation system.
G. Every oil refining systems.
H. Fuel gas heating system (waste gas processing system)
I. Waste water processing system
J. Flue dust removal system
2. Domestic pioneer of this technology
A. In its key installment decomposition processor design, has thoroughly overcome the disadvantages of the domestic present vertical flat base split processor, such as bottom partial being heated non-uniformity, easy to break, low output, short service-life is short and so on, the main engine uses horizontal-type 360o structure-0.4 R/M
B. Fast practical feed-in and discharge system. The highest feed-in quantity of the XY-7 every 24 hour achieved 5 tons, Discharge time for 300kg carbon black only needs 90 minutes. The highest feed-in amount of the integral unit equipment every 24 hours achieves 15 tons.
C. Highly effectively gas heating system. In the process of refining oil, after the gas is heated up to 150, it will produce a large amount of unliquefied gas-CH4& C4H8, which cant be formed at normal temperature, normal pressure. If those gases have been fully burning by the specific designed gas nozzle, they can produce a great amount of energy and economize resources. Take the bunker coal as the example, when there is no fuel gas as combustion-supporting for the equipment, every 24 hours need 1.2 tons coals. After the fuel gas aid combustion, every 24 hour need 0.3 tons coal, which enhances production efficiency in the large scale and reduced the fuel cost?
D. Flue dust catcher system. It matches the bidirectional water impact type tornado dust removal room, and the rate of the flue dust catch is access than 95%.
Packaging and Shipping
Packaging details

1*40FR and 1*40HQ for 10 tons




2*40 HQ for 5 tons




Weight

of

Reactor

: about 30tons




All goods are packed with export standard package to make sure no damage during transportation.

Detail details

Within

30 days after receiving deposit.
3. Company Commitment:
The company pledged that, each kind of series equipment we sell have the consummation the post-sale service, a warranty period year, that thoroughly settle down customer extra worries.
Security
The main equipment is of high safety. The phase of the unliquefizable waste gas produced during the process is alkyl from C1 to C4, which is dangerous when burning directly. In our process, it is transferred first through a water close device and a safety device- burning air muzzle. Before burning, we should ensure the safety of production.
Environmental Protective
Dispose waste gas, liquid, and residua in the process:
CE certificate
National PATNTENTS
ISO9001& ISO14001
SGS certificate
SINCE 1982, WE HAVE BEEN FOCUSED ON WASTE MATERIAL RECYCLING MACHINE AND WASTE OIL DISTILLATION PLANT.